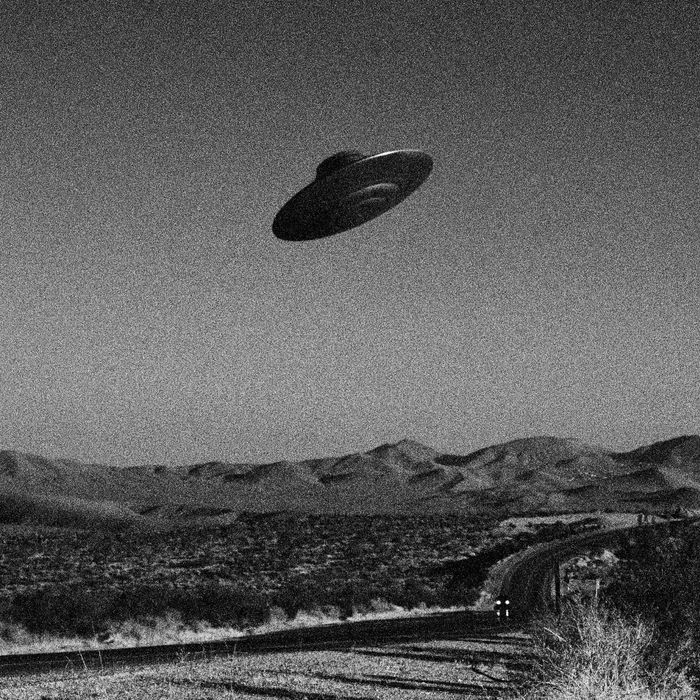 Photo-Illustration: Joe McBride/Getty Images
One of the many curiosities packed into the $2.3 billion omnibus spending and coronavirus-relief package passed by Congress in December was a stipulation requiring the Department of Defense and the Office of the Director of National Intelligence to deliver an unclassified report on unidentified flying objects to Congress within six months, compiling what the government knows about about UFOs rocketing around over American airspace.
The report — which comes after a slow, four-year drip of reporting and government admissions on UFO sightings — could be delivered to Congress as early as June 1. Regardless of what's in it, the release will be the most direct and substantive U.S. government account of what officials call unidentified aerial phenomena (UAP) ever made public. Below is a guide for those who want to believe — or at least understand what to expect from the Pentagon's unprecedented act of transparency.
The legislation passed in December 2020 stipulates that the report must include "detailed analysis of unidentified aerial phenomena data and intelligence" collected by the Office of Naval Intelligence, the FBI, and the Unidentified Aerial Phenomena Task Force. (This is a program the Department of Defense created last summer to "detect, analyze and catalog UAPs that could potentially pose a threat to U.S. national security.") It goes on to call for "a detailed description of an interagency process" for how such data will be collected and analyzed going forward, and recommendations for further UFO research and funding.
The report will likely provide details on several UFO sightings by Navy pilots that were reported in the New York Times in 2017, and later declassified by the Pentagon. While the pilots were shocked by the contours of the aircraft — often referred to as Tic-Tac or cigar-shaped — most alarming were the high velocities and immediate stops, with no apparent propulsion systems identified.
Further details on the report's contents are scant. In March, former director of national intelligence John Ratcliffe offered some hints in a Fox News interview, saying it would describe events from "all over the world," and that "there are a lot more sightings than have been made public." As for what constitutes a sighting, Ratcliffe said, "we're talking about objects that have been seen by Navy or Air Force pilots or have been picked up by satellite imagery that frankly engage in actions that are difficult to explain."
Earlier this month, former Navy pilot Lieutenant Ryan Graves told 60 Minutes that he was "worried" about the objects that he says training pilots saw "every day for at least a couple years" off the eastern seaboard. "You know, if these were tactical jets from another country that were hanging out up there, it would be a massive issue. But because it looks slightly different, we're not willing to actually look at the problem in the face. We're happy to just ignore the fact that these are out there, watching us every day." Graves claims that his squadron of super hornet fighter planes began to see UFOs over restricted airspace in Virginia just after they updated their jets' radar system in 2014, allowing them to zero-in on a target with infrared cameras.
The law ordering the report says it must address whether these incidents pose any potential national security threat, and whether they may be "attributed to one or more foreign adversaries"; more specifically, whether there's any indication that "a potential adversary may have achieved breakthrough aerospace capabilities that could put United States strategic or conventional forces at…


Read More:When Does the Pentagon UFO Report Come Out? What We Know