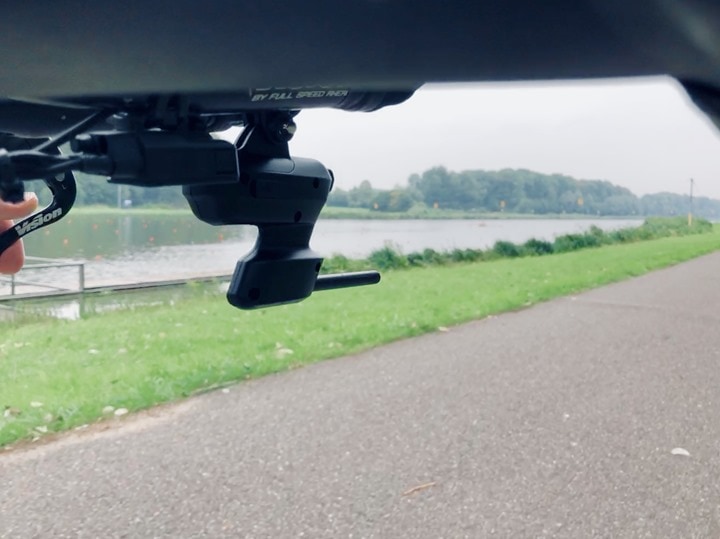 Cycling aerodynamic sensor companies Notio & Velocomp have decided they were tired of waiting for the long-discussed ANT+ Aero Sensor device profile, and have simply released their own instead. As a bit of a background refresher here, both Notio & Velocomp are the two main players in the aero sensor space, at least in terms of actual shipping units. There's a long list of companies in the arena, though you've likely never heard of most of them. The on-bike cycling aero field is still on the cutting edge of what's possible, and probably more meaningfully – what consumers are willing to put up with.
Still, I've poked at it from time to time over the last…umm…half decade I think? A long time. Almost as long as companies have been trying to formalize an aero-related device profile within ANT+.  Since then, aero sensor companies have come and gone, including one bought by Garmin – Alphamantis, way back nearly four years ago. To date, Garmin hasn't released a consumer product based on the prototypes that Alphamantis showed off at previous ANT+ Symposiums. Likely for reasons I'll explain later.
In any event, last week's announcement from Notio & Velocomp is more interesting that people probably realize. So, I'm gonna try and peal back that onion a bit. Because…why not.
The Aero Profile: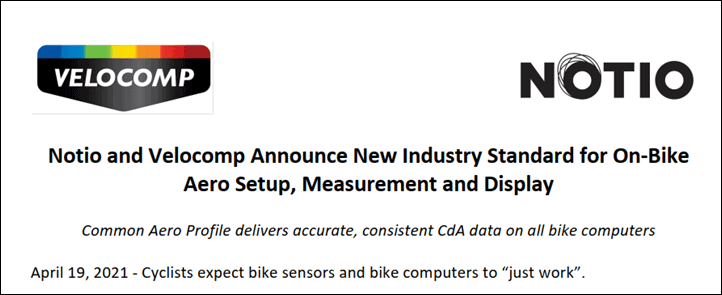 About two weeks ago, Velocomp and Notio announced the creation and distribution of the "Common Aero Profile", which basically aims to standardize how devices talk about aerodynamic details in the cycling world. These two companies basically account for all the currently in-production and shipping aero sensors. Velocomp makes the AeroPod, while Notio makes the Notio Aerometer.
To begin, here's their official press release on the announcement:
"Cyclists expect bike sensors and bike computers to "just work". Unfortunately, seamless operation between aero sensors and bike computers isn't possible today because the aero profile—an industry-standard digital "language" used by aero sensors and bike computers to talk to each other—does not exist. Without an aero profile, cyclists might not benefit from CdA and related measurements, because their aero sensor and bike computer can't understand each other.

In order to rectify this problem, two industry leaders in aero sensors, Notio Technologies and Velocomp LLC, today announced a Common Aero Profile. Bike computer and aero sensor manufacturers implementing the Common Aero Profile will provide their customers with a simplified ANT+ setup experience, bike computer display of aero and related data, and device interoperability.

"The Common Aero Profile opens up aero-related measurements to over 10,000 Notio and Velocomp customers already using our sensors", says John Hamann, CEO of Velocomp. "Cyclists get simplified aero sensor setup, and measurements that are received and displayed on their bike computer in a consistent manner."

"A common aero standard has been an industry goal for several years now," says Martin Lesauteur, CEO of Notio. "As Notio and Velocomp have captured nearly 100% market share of the aero sensor category, we are collaborating to provide a common standard that's available now. The Common Aero Profile will stimulate growth opportunities for bike computer and aero sensor manufacturers. For cyclists, seeing aero data on the bike computer of their choice, from the aero sensor of their choice, is another obvious win."

The Common Aero Profile will be available for license, without charge, to any bike computer or sensor manufacturer. Notio and Velocomp will implement the Common Aero Profile in their respective products and apps during the 2021 cycling season."
So essentially, what they're saying is that because they're waiting on Garmin/ANT+, they've decided to just build their own for now, to get themselves and…


Read More:Aero Sensor Companies Start Own Common Aero Device Profile: Got Tired of